Energy Audit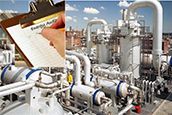 Ministry of Power, Government of India has enacted Energy conservation act 2001, has formed Bureau Of Energy Efficiency (BEE), to undertake Energy Audit task on national level.
We offer services in conducting Energy Audit of Industries and Commercial Buildings both Thermal and Electrical, from team of Certified and accredited Energy Auditor from BEE. We are empanelled with MEDA. And other SDA too.
Experience of more than 25 years in Energy audit
Conducted More than 100 nos Energy Audits in Industries.
Dedicated teams with set of calibrated measuring Instruments
Expertise in Commercial Buildings like IT Industries, Shopping Malls, Hospital, Govt. Buildings.
Wide Experience in Process Industries like Cement, Sugar, Chemical, petrochemical etc.
Why PESS Corporation for Energy Audit ?
Team of Certified & Accredited Energy Auditors.
An Energy Audit Study helps an organisation to understand and analyse its energy use and identify areas where energy use can be reduced.
It helps to decide on how to budget energy use, plan & practice feasible energy conservation methods that will enhance their energy efficiency; minimise energy wastage and thereby reduce energy costs.
Some organisations have already implemented the recommendations and are benefitted up to 30% energy savings.
Who can call us?
Our customers are from various types of industries like Automotive, Manufacturing, Chemical, Process, etc. The payback period of the investments made for these improvements have been in the range of 2 months to 2 years depending upon type of industry.
Who has benefited from us?
Those who conduct Energy Audit gets the benefit of it.
Telephone

91-20-2448 3234, 2448 7774

Mobile

0-9764953045 , 0-9822970350